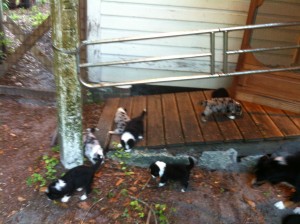 I have been up to my ankles in puppies (eight and a mother dog) and between that and full time work and a graduate school class plus normal life and chores, I have not been writing. But this morning I want to write for my faithful and faithless followers. This will be short and sweet, but sometimes the Good (and Not So Good) Words are short and sweetish.
To fill up the thank full, I am grateful for:
1. Long moments watching, playing and even caring for eight vigorous, growing puppies (they will be six weeks old tomorrow).
2. The feel of the coffee cup in my hands as I raise it to my mouth and the warmth of the coffee as it slips into my mouth and slides down my throat.
3. A freshly sharpened pencil.
4. Getting to glimpse bits of peoples' lives through social media. I love knowing that one person enjoys riding her horse bareback across a field and that another was stopped for a more extensive search at the airport because of her cupcakes and that another is in Russia for space station related work.
5. Walking at five in the morning and passing by a party that was probably, finally beginning to wind down but in that loud, blustery, can't quite give it up sort of way.
6. Well written social and political commentary.
7. Playing hooky from school work by reading pulp fiction
8. Clarity about my art making and the limitations of my current situation.
9. A dog under my feet and a cat in the window next to me.
10. The understanding that it can all fall apart in a powerful hurry, and that we might be going to hell in a handbasket at a much faster speed that we think, but that in this moment I am, and most of the people in my immediate circles, are doing well, all things considered.